Jewish Fun Learning Experiences

What is J-FLEx?
J-FLEx is a new way to envision what Religious School can be. Adopting a camp-style format, J-FLEx offers children many paths to connect to Judaism in a way that is meaningful to them. With diversity in programming, J-FLExers are more likely to discover a personal connection to Judaism.
J-FLEx@Home will officially start on Sunday, October 11, 2020, with J-FLEx@GatesofPrayer beginning the following Sunday, October 18, 2020
from 9:30 - 10:30 AM.
J-FLEx@Home will offer our J-FLExers fun and exciting ways to connect to Judaism. Torah, Holidays, Jewish Culture, Hebrew, music, art and more will be offered virtually to our J-FLExers. Virtual learning does not have to be unimaginative. Jewish Yoga, cooking, concerts, games and more will part of J-FLEx@Home.
J-FLEx@Gates of Prayer will offer our
J-FLExers socially distant programming in
a way that J-FLExers have come to expect. Like J-FLEx@Home, the synagogue version will offer programs in Torah, Holidays, Jewish Culture, Music, Hebrew, Art and more. Many of our programs will occur outside in our vast parking lot or tree shaded grassy areas. Imagine, Jewish yoga under a shady tree, musical song sessions in the parking lot, art under a beautiful sky, videos on our 20 foot inflatable screen, all part of J-FLEx@Gates of Prayer.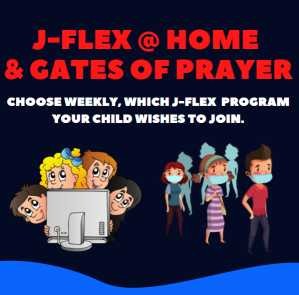 J-FLEx @ Home & Gates of Prayer will allow our families to choose which program model they wish to attend. No need to decide right now. Choose weekly if that is more your style. J-FLEx will always be FLExible to those that wish to attend in either format, at any time.
We are proud that the Rabbi Nathaniel Share Religious School (J-FLEx) of
Congregation Gates of Prayer is an
Tue, March 9 2021
25 Adar 5781
Today's Calendar
---
Tomorrow's Calendar
---
Friday Night
Shabbat Day
Torah Study

: 9:15a
Shabbat Morning Worship

: 10:30a
Upcoming Programs & Events
---
This week's Torah portion is

Parashat Vayak'heil-P'kudei
Erev Passover
View Calendar
Tue, March 9 2021 25 Adar 5781