HHD Card Order Form
HHD Card Order Form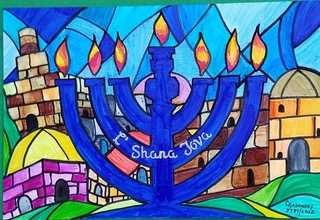 Help us usher in 5781 by adding your name to the Congregation Gates of Prayer Sisterhood High Holy Day Greeting Card. This card is sent to all members of the congregation and is your chance to wish your Gates of Prayer family L'Shana Tova, a Happy New Year. Add your name to this card featur ing the unique artwork of our very own Carol Sadowsky for only $18.

In addition, we are offering you the opportunity to purchase this card, blank inside, with a blank enve- lope, for the price of $2 per card to send to your family and friends.
The High Holy Days are closer than you think! Don't delay! Write your check for $18, (plus $2 for each blank card ordered), made payable to CGoP Sisterhood or pay online by clicking link below! If paying by check, Please enclose this form and mail to:
Congregation Gates of Prayer Sisterhood/HHD Card
4000 West Esplanade Avenue
Metairie, LA 70002
FIRM FINAL DEADLINE IS August 24, 2020.
Sat, November 28 2020
12 Kislev 5781
Today's Calendar
---
Friday Night
Shabbat Day
Torah Study

: 9:15a
Shabbat Morning Worship

: 10:30a
Upcoming Programs & Events
---
This week's Torah portion is

Parashat Vayeitzei
Erev Hanukkah
View Calendar
Sat, November 28 2020 12 Kislev 5781